Identifying, understanding, and overcoming the wrongs of anti-Asian racism
Image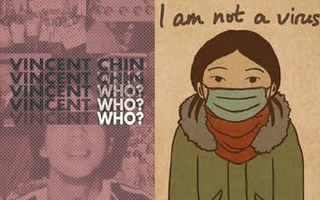 A project focused on anti-Asian rhetoric known as "Yellow Peril" has won a grant from the Chancellor's Call to Action to Address Racism & Social Injustice Research Program for 2022-23.
"Yellow Peril Redux: From Coolies to Concentration Camps, Trade Wars, and Coronavirus" received $75,000 in funding from the Chancellor's Office. The project, which was developed from EALC 398, a course in the Department of East Asian Languages & Cultures, follows a pandemic-inspired resurgence of the rhetoric of "Yellow Peril" and its consequences.
"The timeliness of the topic has greatly increased in recent years," said project lead Shao Dan, professor of East Asian languages and cultures. "The longstanding bias, discrimination, and violence perpetrated against Asian Americans is more apparent in our current moment."
The project situates "Yellow Peril" as a history of systemic racism complicated by U.S. and East Asian relations and mutual (mis)understanding between different cultures. It draws attention to the need to contextualize the redux of "Yellow Peril" in recent decades beyond the domestic history of racism in the United States.
"We want to increase mutual understanding between not only different ethnic and racial groups within the U.S. but also different languages and countries in this era of cross-cultural and transnational interactions," said Dan.
Along with Dan, the team is comprised of scholars, partners, and students from various fields and disciplines, including Matthew Brown from the Academy on Capitalism and Limited Government; Steve Witt, director of the Center for Global Studies and head of the International and Area Studies Library; Shuyong Jiang from the International and Area Studies Library; Ian Wang from the Champaign County History Museum and U.S.-China Cultural Exchange Center; Michelle Zhang, founder of the Society of Heart's Delight in San Jose, California; Mark Frank, a former EALC graduate student who designed an outreach website for the project; Natalya Rodriguez, a former EALC graduate student who served as the project coordinator in 2020-21; Andrew Morris, a consultant from Texas A&M University; and all of the undergraduate students who have taken or are taking EALC 398.
They're studying two main ideas, starting with the social amnesia of Asian American experiences. That means not recognizing what Asian Americans have done for the U.S. and not seeing them as victims of racism. The second involves looking at the perceptions of East Asians and presentations of anti-Asian racism in the U.S. in recent years.
The goal is to create an array of resources for the public, educators, researchers, and students at local, state, and national levels. Those resources will include a digital humanities project that will be accessible to academic and non-academic communities, translations for teaching "Cultures in Contacts" and "Cultural Competence," and opportunities to integrate community-facing activities into undergraduate and graduate teaching.
The team anticipates supporting initiatives such as the Teaching Equitable Asian American Community History (TEAACH) Act established in 2021 in Illinois, as well as our own Intercultural Competence Initiative, funded by the Presidential Initiative: Expanding the Impact of the Arts and the Humanities.
"The project aims to promote a new form of interaction between different disciplines, between academia and the bigger community, as well, to find and test different ways to learn and to identify racial injustice, and to understand or even to help solve the problems beyond textbooks, scholarly presentations, or classroom lectures," said Dan.
The ultimate goal is to identify, understand, and overcome the wrongs of anti-Asian racism.
"We hope to move beyond just documenting episodes of violence or misunderstanding and move toward a process of building tolerance, understanding, and common humanity," said Dan.
Dania De La Hoya Rojas
Editor's note: More information on the Chancellor's Call to Action to Address Racism & Social Injustice Research Program and funded projects can be found here.