The College of LAS reaches abroad with a deeper sense of purpose
Image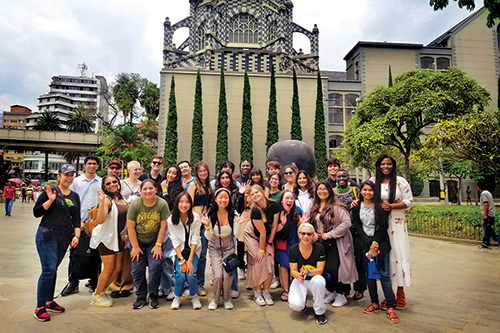 Even in high school, Steph Lepak knew that she wanted to study abroad in college. As a first-generation American born to Polish parents, she could see herself enjoying an amazing educational experience while living with relatives in her ancestorial homeland. And once she was accepted at the University of Illinois, she wasted no time making that vision a reality, deciding to spend her very first semester abroad.
"I was just so set on it, I booked my ticket and everything," said Lepak, who touched down in Poland just as the COVID breakout in Italy was starting to make global headlines. And then — the entire world shut down.
It's a moment that Elly Hanauer, assistant dean of LAS International Programs, will never forget. "In the spring of 2020, we evacuated about 800 students," said Hanauer. "Everyone who was abroad that semester was asked to return home."
Because she was staying with family, Lepak managed to avoid the return flight, but there would be no study abroad program. Like thousands of other students, she spent her first semester taking her regular courses virtually from her room on the other side of the world. Flash forward a couple of years, and it's a very different story. With global COVID-19 restrictions easing around the globe, LAS students are once again expanding their vistas, enjoying a wide variety of study abroad programs, from short-term faculty-led courses abroad to semester-long programs with internships and research opportunities. As a Benjamin A. Gilman International Scholarship recipient, Lepak was able to snag one of the latter, which took her to Asturias in Spain last spring.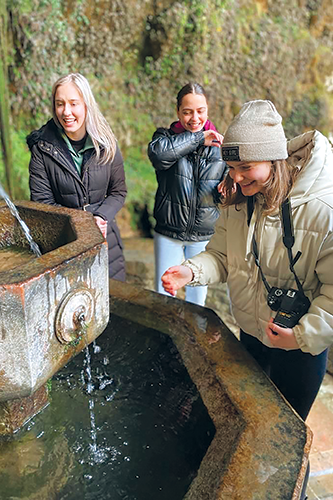 Now a Spanish major, Lepak became fully immersed in the culture, taking classes on history and interning with a sustainable development consultancy. The latter involved writing analyses and reading reports in Spanish, which dramatically enhanced her vocabulary and competency. "There's a different kind of learning that comes with studying abroad," said Lepak. "I've learned so much about Asturias and the society here in Spain in general."
That deep dive into local culture happens by design, according to Daniel Maroun, director of undergraduate studies, Department of French & Italian, who works closely with study abroad programs in France. "We do not ever want to duplicate the American educational experience inside a foreign country," explained Maroun. Much of the learning experience abroad is experiential or service-based and takes place in museums, town halls, and even the homes of local artists and authors, steeping students in the local culture. Through those interactions, Maroun said, students learn to see the world from another viewpoint, which is an essential part of any liberal arts education.
"We need to have different perspectives, and we need to have practice at this whole concept of intercultural competency," said Maroun. "To be capable of representing diversity, administering equity, and promising inclusion, you — as an individual — need to experience that."
Kaya Van Dyke, a global studies major who recently completed a study abroad in Senegal, agreed. "While I learned a lot in my studies back home, it was very impactful for me to learn about international development and aid efforts from the perspective of Senegalese teachers and to have the opportunity to see these efforts in practice," said Van Dyke, who earned a Boren Scholarship during her junior year. She used the scholarship, which provides federal funds to study less common languages, to explore Wolof, one of the main languages spoken in Senegal. "I feel like the deep understanding I gained on these during my time abroad was the perfect culmination of my undergraduate studies."
Studying abroad was made more meaningful by the fact that it almost didn't happen. With a global pandemic closing borders around the world, it would have been easy for Hanauer and her team to switch off the lights. But instead, they innovated, creating virtual courses that kept students engaged with the outside world, including a European studies course team-taught by resident directors from Vienna, Paris, Rome, and Granada.
Maroun is a big fan of the course, which examined how "smart cities" are using technology to improve their operations and environmental sustainability efforts. "It created this transatlantic informational exchange between students who wanted to talk about global matters and European resident directors who are experts in their field," he said.
LAS International Programs (LASIP) also developed Virtual Global Experiences, which provide students with virtual internships and research opportunities with organizations and companies around the world. For these and other efforts, the University of Illinois International Student and Scholar Services awarded LASIP the 2020 ISSS Award for Outstanding Unit. Still, Hanauer said, virtual courses and internships are no substitute for the type of hands-on learning that comes from studying abroad.
"In our field in particular, we've learned that the virtual realm is complementary," said Hanauer. "It doesn't replace the experience of getting on a plane and living in another country and culture. It doesn't replace living with a host family. It doesn't replace meeting other students from around the world." Which is why she's excited to see in-person, study abroad programs finally make their return.
It's a gradual process, said Hanauer. The pandemic isn't over, which means the university is adjusting to a patch-work quilt of regulations that vary from country to country.  "Most of our students abroad last spring were in western Europe, with a few in Latin America," she said. There are a few, however, who've managed to make it further afield, including Fola Olumola, another Boren Scholarship winner and political science major who spent the last semester studying Arabic in Oman. Like many students, she said the immersive nature of the program enhanced her language studies, but she also bolstered her sense of independence.
When her first apartment put her in the middle of a strong English ex-pat community, for example, she made the decision to relocate so she could be more immersed in the language and make local connections. That effort paid off, and soon she was spending time with friends who invited her into their homes. It wasn't Olumola's first time abroad. She's also been to China and taken part in a short-term program in Italy exploring the plight of migrants. "It was an insightful experience that broadened my interest in how migrants adjust to a new country and what governments or non-profits can do to support them," she said.
The impact of studying abroad can last long after students return. For Olumola, who graduated last spring, her experience helped her decide that she'd like to continue working with migrants through programs like International Rescue Committee. She also received a Fulbright grant to teach university students in Turkey next year.
For Lepak, it helped her decide which courses she really wanted to pursue during the rest of her time at Illinois. For Hanauer, the latter underscores the need to expose students to global perspectives as early as possible, which is why she advocated for the U of I, and LAS in particular, to launch the Global Classrooms initiative. The program, which incorporates a virtual educational exchange, pairs professors teaching similar subjects around the world, exposing the students in their classrooms to different perspectives.
Individual professors have been creating these exchanges for years, but Global Classrooms elevates the concept to an institutional level, helping faculty find global partners, overcome language and technical difficulties, and develop syllabi that make the most of the opportunities that these exchanges provide. While it may have been born out of the pandemic, it's an innovation that could have a lasting impact, engaging large numbers of students in global learning from their first year on campus and encouraging more students to consider the benefits of international engagement and study abroad.
As for Lepak, she's glad she took the leap to Spain, calling it the most amazing experience of her life. "There's a word they use here in Asturias called 'aprovechar,' which means 'to make the most of.' It's kind of a mouthful in English, but we always use it," said Lepak. "You've got to make the most of everything."
John Turner
Editor's note: This story first appeared in the Fall 2022 issue of The Quadrangle.