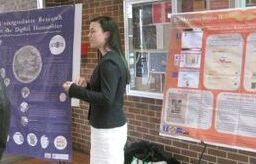 The SLCL Undergraduate Research Initiative annually seeks proposals involving faculty-initiated research projects that will allow for the involvement of undergraduate students who have not yet decided on their own research topic, but who would like to obtain research experience. Ideally, a student's participation in a faculty member's research project would be a stepping-stone towards conducting independent researh. The school provides funding for such projects at a maximum of $1,500 each and the projects typically span one academic year. Partcipation in the program is open to all tenure-line faculty in SLCL.
The undergraduate researchers are expected to be full participants in the research project. The faculty member is expected to acquaint the student with the background of the research project, suggest relevant readings, and involve the student in regular individual and/or group meetings. Each undergraduate research project culminates with an appropriate report of the completed work, such as a research paper, a poster, or another type of demonstration of scholarly/creative accomplishments. Additionally, the undergraduate researcher is included as a co-author on at least one professional conference presentation and/or publication opportunity to present his/her completed work at the Undergraduate Research Symposium (http://undergradresearch.illinois.edu/) or at a School of Literatures, Cultures, and Linguistics symposium or poster session.
The proposals are evaluated by the SLCL Executive Committee based on the following criteria:
(a) the quality of the proposed research project;
(b) the level of educational benefit to the undergraduate researchers;
(c) the proposing faculty member's previous experience working with undergraduates, particularly in a research and/or collaborative environment;
(d) the extent to which the project involves collaboration among faculty, particularly across academic units and/or disciplines.
Since the inception of this initiative in 2013, thirteen such projects have been funded.
Department of The Classics – Ariana Traill, Dickinson College Commentaries Collaboration (2 Awards)
Department of Germanic Languages & Literature – Anke Pinkert, Transforming the Humanities through Higher Education in Prison
Department of Germanic Languages & Literature – Anna Stenport, Films on Ice
Department of Germanic Languages & Literature – Anna Stenport, Diversity and Access in Global Student Mobility in the School of Literatures, Cultures and Linguistics
Department of Germanic Languages & Literature – Mara Wade, Emblematica Online
Department of Germanic Languages & Literature - Mara Wade, Emblematica Online/Newberry
Department of Linguistics – Tania Ionin, Second Language Acquisition of English Articles
Department of Linguistics – Tania Ionin, Acquisition of Novel Linguistics Forms by Child and Adult Learners
Department of Linguistics - Tania Ionin, Sentence Interpretation in Russian and German
Department of Linguistics - Tania Ionin, Processing of English Articles by Second Language Learners
Department of Linguistics - Marina Terkourafi, Meaning-making on the Internet: A Preliminary Investigation
Departments of Linguistics & Spanish and Portuguese - Melissa Bowles and Xun Yan, Examining the Comparability, Reliability, and Equivalency of the UIUC On-campus and Online English Placement Tests (EPTs)
Department of Spanish and Portuguese – José Ignacio Hualde, Spanish Acoustic Phonetics
download the application for the SLCL Initiative for Undergraduate Research